The Crypto world can be overwhelming and difficult to participate in for day traders. It is also extremely risky to jump into crypto trading without experience and market knowledge. We break down how to get crypto funding in as quick as 1 trade via Crypto Funded Trader Programs
What are Crypto Funded Trader Programs?
Crypto funding programs take out the risk of trading own money in a live brokerage account by limiting trader exposure to evaluation fees paid. In Many programs that we feature the fee is refundable.
While there are sub-par strictly crypto funded trader programs, the best options are big forex plus funded trader programs that allow crypto to be traded.
Reach profit goals of trader evaluations in trader funding programs and trade live accounts where you get a high % profit split with a funding prop firm.
Experienced and under-capitalized traders will also benefit from these programs. A setup fee can have you trading cryptocurrencies in minutes and receive funding as fast as in 1 days with some of these programs.
Most importantly it is possible to enjoy the benefits of crypto trading with leverage on the upside, and not have to suffer the consequences of the downside. Get over 10:1 drawdown dollars to fee paid in these accounts. A fee is often refundable.
Crypto funding programs allow traders from around the world to participate. USA, EU, and traders from around the world are welcome.
Crypto funded trader programs also allow for account growth and career opportunities. In futures, funded trader programs the rules are seemingly made to get rid of traders as quickly as possible.
Programs we feature allow an opportunity to scale up the account and even get career opportunities. Getting funded with these crypto funding firms is just the beginning of the trading experience.
Features we evaluate when selecting the best programs
Most crypto trader evaluation programs have a similar structure:
Fee – amount to participate in the program. Funding programs have several fee options:

One Time – pay a fee to get the setup up and running. Fee covers the whole evaluation on the path to becoming funded crypto trader.
Monthly Fee – Trader pays a monthly fee until qualifying for funding or failing the evaluation.
Refundable Fee – Traders pay the fee with evaluation and are refunded after reaching a certain funded milestone.

Profit Goal. Traders need to reach a certain profit threshold to qualify for funding. Has to be done without violating any funding program rules.
Drawdown. Loss levels traders can not go below and remain eligible for funding.

Daily – some programs have daily loss limit threshold
Overall – maximum loss amount in the account

Rules. Programs may limit trading during news events, trading using arbitrage automation or expert advisor automation. Please make sure you are familiar with the rules. We feature programs that prioritize trader freedom.
Profit Split – Percentage of profits traders keep once funded.
Phases – usually crypto funded trader programs require traders to complete two phases of evaluations, in some cases it can be done in one.
Now let us look at the best in the crypto funding industry.
Best Funded Trader Programs for Crypto Traders
1. True Forex Funds
True Forex Funds is currently the best program for crypto trading available. Matter of fact they are the best overall funded trader program for all instruments, their strength is Forex but they are absolutely crushing it in the crypto space too.
View Trues Forex Funded Trader Programs to follow along
What Makes True Forex the best program?
Straight forward approach to funding:
0 Minimum Days
7 Days a week crypto trading – now with only 1 hr maintenance period all week
Smallest profit targets

8% Phase 1 Profit Target
4% Phase 2 Profit Target

Generous 10% drawdown
Get paid in 2 weeks from starting live
Account scaling for good performance
Fast and responsive support, in our experience account creation, support and payment has been seamless.
5:1 Leverage on crypto
Features seem too good to be true, but they have been funding traders and paying on time despite wild market volatility.
What Crypto Products does True Forex Funding Have?
New liquidity provider has opened up TFF crypto offerings, they now have:
Not only huge selection but they also have tremendous spreads
True Forex Funding Crypto Spreads
Sub $1 ETH, and sub $10 BTC spreads are absolutely insane in comparison to the rest of the industry. Combined with having a refundable fee, 7 day a week crypto trading, zero minimum day requirement and best offering of crypto products, True Forex is an easy leader in this space.
View True Forex Funded Programs with Refundable Fee Special
2. FTMO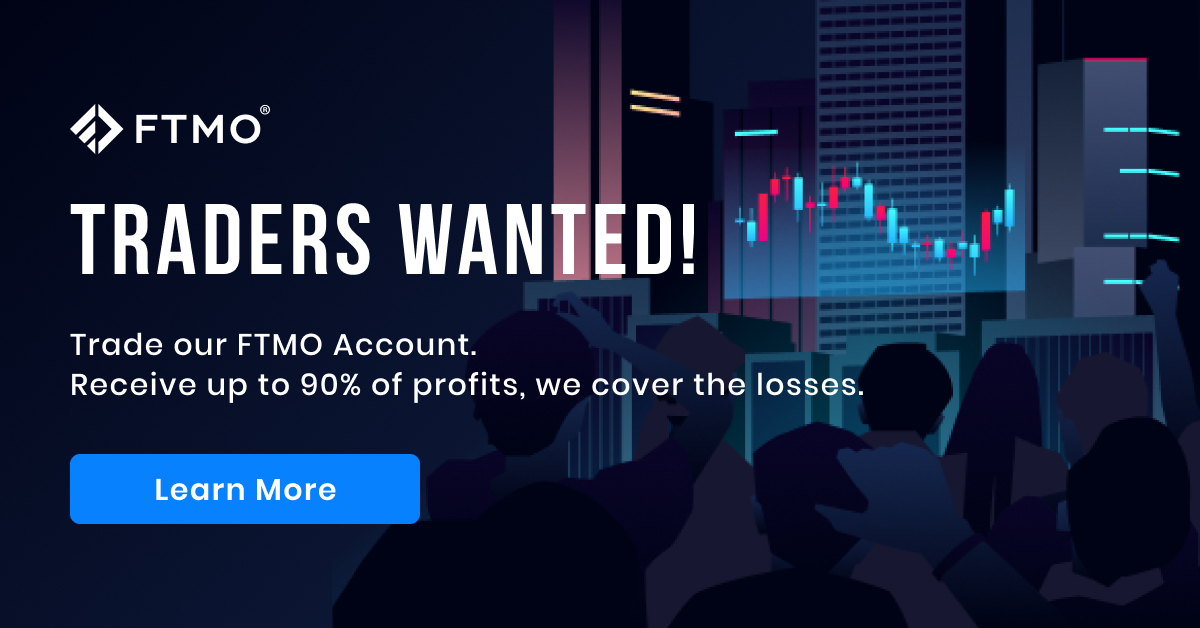 An industry leader in Forex-funded trader programs now does cryptocurrencies. The company has won many awards for innovation and has already paid traders out more than $23M this year.
To participate in live trading with FTMO Proprietary trading firm you need to complete a two-step evaluation process known as FTMO Challenge and Verification stage.
Crypto is just an addition to an already very popular program. Traders will also have access to trade hundreds of Forex and CFD products tracking stocks, indexes, commodities, and currencies around the world. See Full FTMO Program Review here,
You qualify for a trading account with FTMO proprietary Trading Firm if you:
Apply any trading style of your choosing to make profits while avoiding large drawdowns
Complete FTMO Challenge stage in at least 10 days and no more than 30 days
Complete Verification stage in at least 10 days but no more than 10 days
Meet Account profit targets, 10% in Verification and 5% in challenge stage
FTMO has static drawdown. It never trails live or EOD like similar futures programs. Much more room to work with.
Achieve the above objectives and get to trade live account for now extra cost. Your evaluation fee will be refunded with the first withdrawal.
Profit splits start with 80:20 in favor of the trader and can be scaled up to 90% as soon as 4 months in.
Getting a funded account with FTMO is not the finish line. It is just the beginning. Traders' performance is rewarded and the account can be scaled up 25% every four months. More drawdown, more leverage all while withdrawing cyrpto trading profits.
Available cryptocurrency to trade:
ADA – Cardano
BTC – Bitcoin
DASH
DOGE – Dogecoin
DOT – Polkadot
ETH – Ethereum
LTC – Litecoin
NEO
MXR – Monero
XRP – Ripple
Pricing starts at $150USD for a $10,000 account. The fee is refundable with the first withdrawal. Accounts go up to $200,000 and can be scaled up into seven figures in a live environment
Best Crypto Funded Account Offer:
For more program details see Full FTMO Program Review. Follow the above link for a free trial if you would like to look around the platform and sim trade their diverse product selection.
3. E8 Trader Funding
Aggressive traders, this one is for you! Qualify for a funded account with a proprietary trading firm in just 2 trading days. Trade popular cryptocurrencies or other products in a wide selection of E8 forex and CFD products. We have rated E8 the Best Funded Trader program overall, it trails FTMO in crypto space but is still absolutely top-notch.
What Crypto can you day trade with E8:
Bitcoin – BTC
Ethereum – ETH
Litecoin – LTC
E8 Crypto Funding has more coins available such DASH and XRP are also available, but due to their spread, they are better off used for swing trading.
E8 Trader funding also has a 2 step evaluation:
Phase 1 – Reach 8% profit target before reaching 8% drawdown.
Phase 2 – Reach 5% profit target without reaching 8% drawdown.
The program fee is refunded with the first withdrawal.
ELEV8 account offers a unique chance not only to get the fee refunded but to scale the $100k account up to $1m. Traders who reach million dollar account milestone will be evaluated and likely offered trading jobs at prop firm partners around the world.
E8 Trader Funding Sign up here. Follow the link for the latest best offer or a free trial if you would like to take a look around first.
To learn more about e8 trader funding in the in-depth review and why it was ranked best funded trader program.
Summary of crypto funded trader programs
We are currently vetting several additional programs to feature in this piece. Programs featured cover all possible needs of aspiring funded crypto trader. Product selection, spreads, around-the-clock trading, and fast payouts.
If you are not fully ready feel free to go to the programs and signup for their free trials to look around features and get used to MT4/MT5 execution platforms, for free trials go to:
Participating in cryptocurrency funded trader programs takes a lot of risk out of high leverage and high volatility trading and limits it to fees paid. Still, please familiarize yourself with the risks associated with day trading.