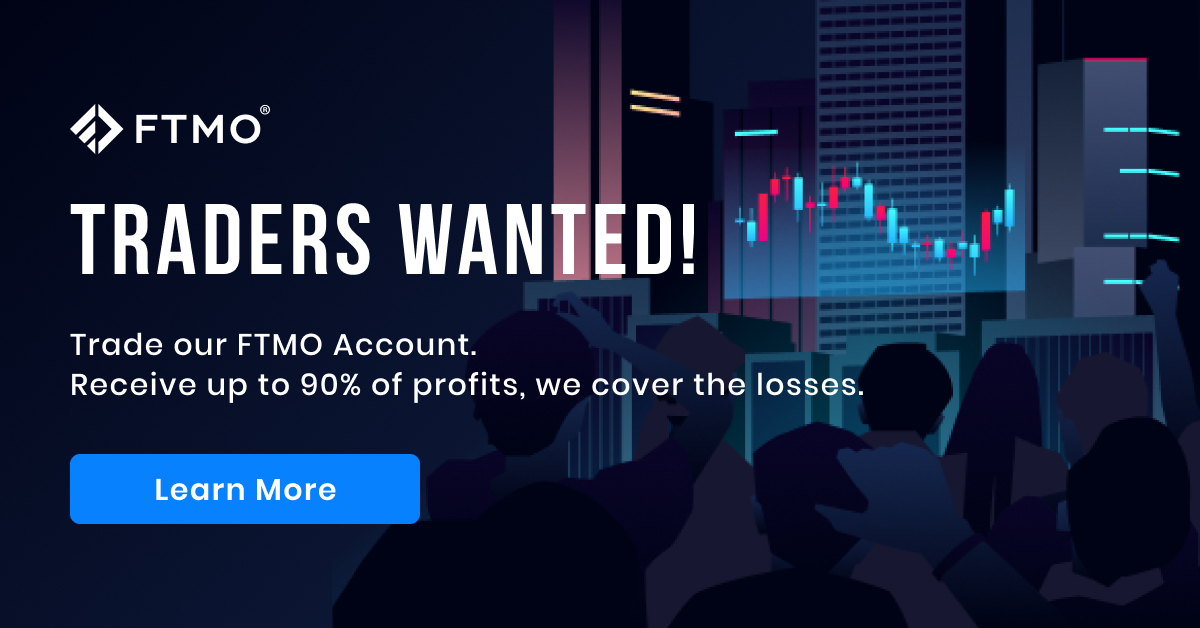 FTMO provides traders with a chance to trade for a proprietary trading firm after passing quick trader challenge. FTMO paid out over 23 Million USD to funded traders this year and is growing fast.
Forex Traders wanted! In addition to massive currency selection, traders can also trade index, cryptocurrency, commodity, and other products. FTMO features trader friendly environment. Pass challenge and get up to 90% profit split in the funded environment.
FTMO Trader Funding Challenge
Forex and CFD traders from around the world are welcome to participate in FTMO Prop Firm Challenge. They are an established trader funding company with amazing reviews.
Not easy to start as a trader. Fear of putting own money on the line. Lack of capital to allocate proper to trading, lack of experience and knowledge. At FTMO can start participating in markets with unlimited earning potential within minutes. One-time fee with no risking of own capital and big potential.
Start trader journey for a refundable fee – have an opportunity to scale up your account to $2M
FTMO Challenge
There are 9 available challenges broken up into two types – Normal and Aggressive.
Normal Account Come in $10k, 25k, 50k, 100k, and 200k size.
Aggressive Accounts are available in $10k, 25k, 50k, and 100k sizes.
Aspiring FTMO traders are also welcome to have their accounts denominated in 7 available currencies. USD is the most popular choice, so we will discuss all account parameters for USD accounts. Traders from most countries in the world are welcome to participate in the challenge.
All trader evaluations are a two-step process. FTMO challenge of first step requirements
| | | |
| --- | --- | --- |
| FTMO CHALLENGE | NORMAL | AGGRESSIVE |
| Min Trading Days | 10 | 10 |
| Trading Period Days | 30 | 30 |
| Max Daily Loss | 5% | 10% |
| Max Total Loss | 10% | 20% |
| Profit Target | 10% | 20% |
Challenge is the most difficult part of the evaluation. The static drawdown program has very favorable rules especially considering much of the competition having live or end-of-day trailing drawdown.
Traders are free to trade any strategy they would like to complete the trader evaluation process as long as the maximum loss level is not violated. Upon reaching the profit goal in 10 or more days traders are asked to complete one more stage.
Verification Stage
Last step before becoming an FTMO trader. This step is necessary to weed out one trader's wonders. There is no punishment for making too much money in a single trade in the first evaluation. However, the proprietary trading firm would like to see traders prove their consistency in the verification stage. The rules are significantly easier than the FTMO Challenge stage
| | | |
| --- | --- | --- |
| FTMO VERIFICATION | NORMAL | AGGRESSIVE |
| Min Trading Days | 10 | 10 |
| Trading Period Days | 60 | 60 |
| Max Daily Loss | 5% | 10% |
| Max Total Loss | 10% | 20% |
| Profit Target | 5% | 10% |
Evaluation duration has been extended by 30 days and the profit target reduced to only 5%
There is no extra cost during the second stage, the whole evaluation is covered by the initial fee. The fee is refunded during the first live account withdrawal.
This stage also has a static drawdown. Drawdown never trails. After passing the verification step time to start trading with FTMO Proprietary Trading firm with a generous profit split starting at 80% and going up to 90% of consistency shown.
FTMO Trader
Time to earn real money. At this stage, you become FTMO TRADER! Account drawdown parameters remain the same
| | | |
| --- | --- | --- |
| FTMO TRADER | NORMAL | AGGRESSIVE |
| Min Trading Days | N/A | N/A |
| Trading Period Days | Indefinite | Indefinite |
| Max Daily Loss | 5% | 10% |
| Max Total Loss | 10% | 20% |
| Profit Target | N/A | N/A |
Funded trader environment is time to focus on the risk, no profit goals, and no timelines.
Funded traders start with an 80:20 profit split in favor of the trader. Payouts can be requested on-demand and first can be processed in just 14 days after starting as FTMO Trader.

Account Scaling
Getting a funded account is not the finish line. It is just the beginning of my trading career with FTMO. Traders are presented with an opportunity to get paid and scale up a funded account at the same time. Nothing like this if futures funded industry programs we review.
Capital increases take place in four-month cycles. If 10% or more trading profit is generated account, trader account balance and parameters are scaled by 25%. Traders who scale-up also get their profit split upgraded to 90%.
Not only do the profits not get capped or drawdown trailed, but successful traders also get a chance to trade more money, while at the same time making withdrawals. Traders are placed in a position to succeed with FTMO Proprietary trading firm.
Below is an example of scaling 400k initial starting balance account
Double account balance and maximum drawdown in 16 months. All while making withdrawals along the way. Traders do have to be above the initial balance to qualify for scaling. Traders digging out of drawdown will not be awarded scaling opportunity until profitable again.
FTMO Rules
Traders are free to trade any strategy or system they wish during the evaluation stages. There are no restrictions on automated trading or systems. Traders can hold positions overnight and over the weekend during FTMO Challenge and Verification.
Once funded there are restrictions added for some very high volatility event news. Traders are also no longer allowed to hold positions over the weekend or if the market is closed for longer than two hours intraday.
Please be sure to read the trader agreement carefully. Staying within the rules is essential for career success. While there is a lot of freedom, some of those rules will protect traders in the long term.
Products
Extremely diverse product selection that will satisfy Forex traders as well as multi instruments traders alike.
Forex. Over 50 currency pairs available all majors and many exotics.
Futures CFDs – Instruments tracking Dollars Index, Euro Bund, Natural Gas futures and more all under one FTMO account.
World Index Products – Trade Indexes from Australia 200 to Dax 30 and all major US index trocking products
Metals – Trade Gold, Silver and Platinum. Many metals avialable to trade in Euro or Aussie denominations.
Stocks – 7 biggest EU stocks and dozens of popular US listed stocks available to trade.
Product selection was already amazing, and now you can even trade cryptocurrencies.
FTMO Crypto
Crypto instruments are available to trade 7 days a week. Perfect for part-time traders busy during the week and crypto enthusiasts. We have not seen a program with such a reputation that allows us to have DOGEcoin, Cardano, Gold, AAPL, and Index positions all within one evaluation account.
Please be sure to familiarize yourself with contract specifications before trading any of the products by right-clicking the products. They are not all 1 contract/share and could cause traders to over-leverage.
Trade Bundle
Sophisticated Account MetriX dashboard providing insight into trader's performance. A statistical breakdown of performance is broken down into time intervals and products.
Trading Journal is provided for traders to keep track of their performance.
Performance coaching. FTMO Traders can schedule sessions with professional performance coaches to help maximize the experience in the program.
Free Trial
Traders who are not ready to get right into a funded environment are welcome to sign up for FTMO TRIAL. Trial offers access to the trading platform in minutes, can look around vast product selection and practice execution on the trading platform of your choice.
FAQ
Is FTMO funding a trusted company? Absolutely. Thousands of traders have been funded by the company since 2015 and they are on pace to pay out 24M+ to traders this year. They have positive reviews across the industry.
Where is FTMO located? The Czech Republic. Traders from around the world are welcome to participate in the funding program.
Any alternate methods to get funded? Yes! FTMO Swing trading account types are available for traders looking to hold positions over the weekend in a funded environment.
Who can join FTMO? Traders of at least 18 years old from around the world are welcome to join. The program is a great tool for beginners to learn and experienced traders to leverage a refundable fee into a trading career opportunity.
FTMO Summary
FTMO funding offers a fantastic solution for all traders. Static drawdown, refundable fee, and excellent product selection. Trade 7 days a week your way en route to a scalable trading career!