Update: This deal has expired. Now Leeloo is offering an 85% off special using code NIROKJN4 at checkout.
MASSIVE SALE FROM LEELOO HERE, they are kicking off 12 days of Christmas funded program deals with this sales of up to 3 funded trader accounts.
YOU can get up to 3 accounts per user, 3 25k accounts for $9 (you have to check out one account at a time under the same log in)
Usually this account is $150. See the video for code and instructions. Congrats LEELOO on 2000 subs and Thank You for this great holiday promotion
Enter the code here:
After selecting 25K and entering code should see $3 + local taxes:
Repeat the process three times, should have three accounts under dashboard: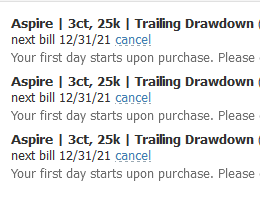 They have excellent automated system for generating trader funding account logins, so you should be able to place trades as early today, look around LeeLoo website for full information.
This trader funding deal will only be going today, December 1st! Good luck
Remember, trading futures is very risky and make sure that you familiarize yourself with Disclosure of risks associated with trading. Fortunately starting for $3 for a chance at real money trading takes a lot of risk out of initial market participation. Good luck, let us know how you did in your LEELOO evaluations.