Chritmas has passed but LeeLoo Sales are not over, check out this 50% off all evaluation program sale and keep an eye on trader deals page for new programs and sales.
Final Day of LeeLoo Christmas Sale! And it's a good one, click below to get 50% off all accounts for a lifetime, use code FRIDAY50 at checkout! Good luck!
Day 11 of LeeLoo Christmas:
Excellent deal $67 refundable fee for an express account. Two total weeks for a chance at $3,000 in live futures trading account drawdown.
Click on LeeLoo image, select 100K express account and enter code THURSDAY10 in the first page of checkout.
Day 10 of LeeLoo Christmas:
Day 9 of LeeLoo Christmas:
6k profit goal for 3k funding trading 12 contracts. Not the best profit/drawdown ratio for evaluations programs, but the price is right for high contract traders.
Day 8 of LeeLoo Christmas:
Excellent deal on Leeloo funded evaluation 50k account here. 8ctr , 3k profit target to get funding. $2500 drawdown.
No Deals on Saturday, next one on the 13th, in the meantime check out Funded Trader Deals
Day 7 of LeeLoo Christmas: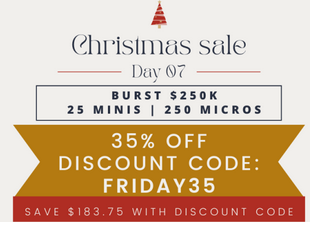 Day 6 of LeeLoo Christmas:
25% off evaluations and a drawing
Day 5 of LeeLoo Christmas
Excellent deal $137 to try to get $5000 in funding account drawdown.
Day 4 of LeeLoo 12 Days of Christmas Sale:
Day 3 of LeeLoo Christmas:
250k Burst Account $184 or 35% off – NO limit on how many Burst trading accounts you can buy
25 Minis or 250 micros, 15k profit goal before $6500 trailing drawdown
Day 2 of LeeLoo Christmas:
Glide account for $108, static draw down account
Day 1 of LeeLoo Christmas:
On first day of the sale, they are selling $100k virtual trader evaluation account for 50% off. Go to LEELOO TRADING and just check out , no Code necessary on day 1.
Before days of Christmas Sale even kicked off , LeeLoo trader funding ran huge black Friday, cyber Monday and even social media anniversary LEELOO 25k ACCOUNT $3! sales Now it's time for 12 days of Christmas Sale.
LeeLoo Trader Funding will be rolling out new special codes every day, we will track them for you and post them here, surely it will be various discounts on different trader evaluations.
What is Code for LeeLoo Trading Christmas Sale?
Every day will have new code released along with details which program and what kind of deal.
How to get Christmas Deal at LeeLoo?
Go to LEELOO TRADING
Select Evaluation that is having a sale that day
Select Payment method radio box and enter special code below. Green check mark should appear
Agree to terms and continue to payment
Complete payment
Funded Trader Evaluation logins should be on the way to you in minutes.
Make sure to familiarize yourself with setups instructions and evaluations rules. Fortunately LeeLoo trading values trader freedom, so there are relatively few rules compared to the rest of the industry, making it amazing value trader evaluation.
LeeLoo Trader Evaluation Basics
Trade your own strategy in one simple evaluation step
No trappy rules that are hard to keep up with for any trader. Just manage your risk smartly
Trade minimum of 10 days
Complete profit target without reaching the max allowed trailing drawdown
Trade multiple evaluation accounts at once
No Scaling plan, trade maximum available leverage at once (if you want of course)
Can break up big contracts into micros, evaluation that allows you maximum of 3 mini contracts, can be used to trade 30 micros. Leeloo trading industry leader in micro trading.
Free NinjaTrader license key during your evaluation and once funded
Markets are really picking up in volatility, no better way to try to leverage a small tryout fee into a funded trader account.
Please familiarize yourself with risks of trading future including the ones in this Disclosure.
Good Luck and Trade Well!